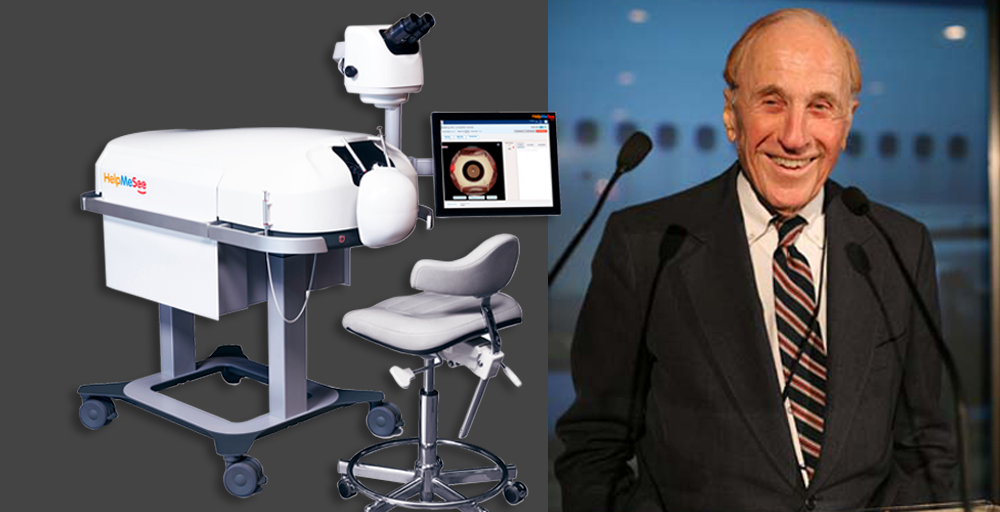 OUR HISTORY
The inspiration driving HelpMeSee's mission began in the late 1970s when Albert L. Ueltschi dedicated himself to fighting blindness in the developing world.
Al was the founder of FlightSafety International (FSI), the world's leading aviation training company and a co-founder of Orbis International, providing support for that organization for over thirty years. During that time, Al led the effort to outfit the Orbis Flying Eye Hospital, allowing volunteer ophthalmologists to reach all corners of the globe to treat avoidable blindness and strengthen eye care in developing countries.
Al had the skills and dedication to make a difference and was convinced that training local ophthalmologists who would remain in their own communities was the answer to driving true change for the blind.  He and his son Jim founded HelpMeSee in 2010.
Al passed away in October of 2012. Today, his legacy lives on across the globe, as HelpMeSee's international team works to eradicate blindness caused by cataract, through the innovation of simulation-based training.
In 2014, HelpMeSee reached a critical milestone in completing the creation of its first simulator prototype.
By 2015, the first surgeon was trained on the simulator, marking an exciting path forward for the organization.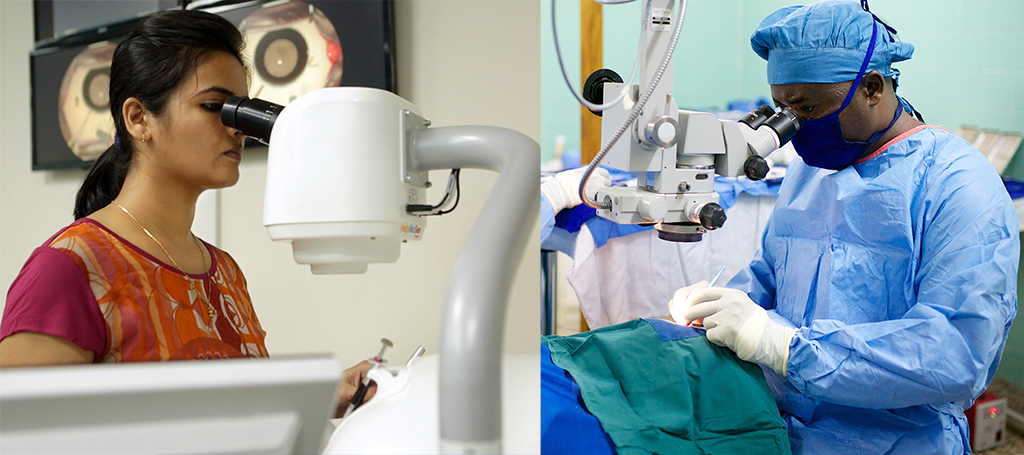 In October of of 2020, a HelpMeSee team of professionals across three continents, eight countries, and multiple time zones, successfully launched the world's first virtual reality high-fidelity MSICS simulator with an instructor-led curriculum, on World Sight Day.  
Just two years later, in April of 2022, HelpMeSee launched its Complications Management Training course. This one-day, instructor-led stand-alone course teaches essential skills for dealing with complications that can arise during surgery and can be added on for trainees enrolled in other HelpMeSee courses. HelpMeSee's training allows cataract specialists to practice surgery and learn to address complications through simulation, rather than the human eye with a live patient.
In June of 2022, HelpMeSee announced the release of an eBook on Manual Small Incision Cataract Surgery (MSICS) that delivers an immersive learning experience through rich multimedia, live surgical demonstrations and a step-by-step guide to the surgical procedure. The innovation of the eBook lies in its powerful interactive experience, which allows learners at all levels to master the material and gain expertise in cataract surgery.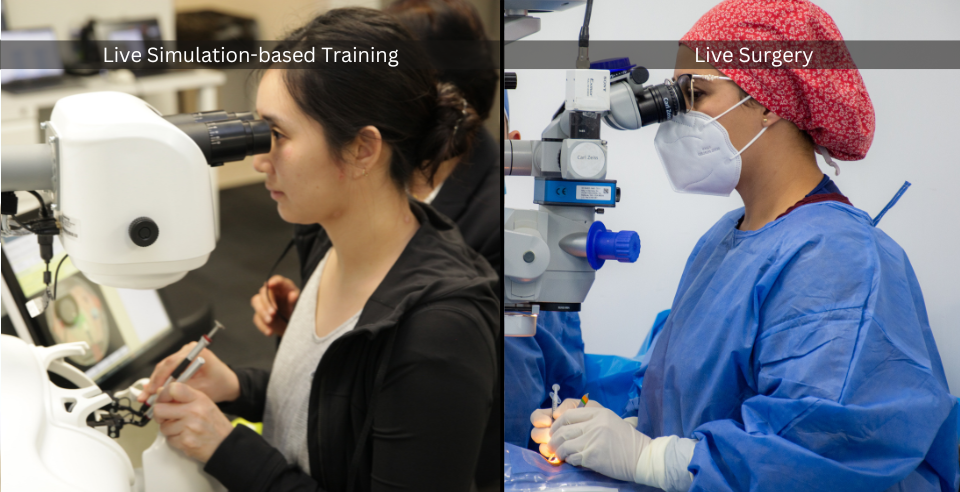 One year later, in April of 2023, HelpMeSee proudly unveiled its simulation-based training for Phacoemulsification and Suturing, offering a simulation-based, 4-day instructor led course that teaches essential skills for phacoemulsification and suturing.  
Drawing on virtual reality, each of HelpMeSee's Simulation-Based Training programs offer an authentic experience of live surgery, allowing for the scalable training of large numbers of cataract specialists, with unprecedented speed and skill.  The training builds competency, reducing cataract surgery training time, with better outcomes than traditional surgery methods.
The HelpMeSee simulator is covered by patents in the U.S. and China, with applications pending in other regions around the world, including Mexico, the EU, India, Madagascar, and Hong Kong.
Individual customization of training is a significant advantage, as the data on surgical steps can be tracked on the system. HelpMeSee's simulation-based training and curriculum provide an authentic experience, allowing for errors without risks to patient safety.
While HelpMeSee began its work with MSICS, its offerings have expanded to include additional procedures and products, all focused on creating an impact at scale.  Overcoming traditional restraints in cataract surgery training, HelpMeSee's suite of innovation is now driving change around the world and fulfilling the legacy of its founder Al Ueltschi, who saw the opportunity and took action to restore the gift of sight.
"Every one of us has the opportunity – and the obligation – to make a difference by helping other people."  
Albert Lee Ueltschi 
Want to learn more about HelpMeSee?
Become a #HelpMeSeeHero and sign up for our email newsletter.  Receive the latest HelpMeSee news and updates in your email inbox.
HelpMeSee, Inc.
1 Evertrust Plaza, Suite 308
Jersey City, NJ 07302

+1 844-435-7637 (toll-free in the U.S.)
+1 212-221-7606 (international)
For media inquiries, please email us directly at [email protected].
For training inquiries, please email us directly at [email protected].
Tax ID: 27-3207754
©2023 HelpMeSee - ALL RIGHTS RESERVED
Privacy & Data Security Policies | Donor Bill of Rights | Financial Disclosure
Training Services Standard Terms and Conditions | General Terms and Conditions of Simulator SBLS Use | Application Data Sharing Consent | HTML Sitemap
HelpMeSee is a 501(c)(3) nonprofit organization registered in the United States. 
The HelpMeSee mission is to eradicate preventable cataract blindness globally. We achieve this through an innovative, scalable simulation-based cataract surgical training program. Our program covers Manual Small Incision Cataract Surgery (MSICS), Phacoemulsification Simulation-based Training Course (PSTC), Suturing Simulation-based Training Course (SSTC), Complications Management Course (CMC), Phacoemulsification to MSICS Differences Course (PMDC), and MSICS to Phacoemulsification Differences Course (MPDC). These offerings empower eye care professionals to refine their skills, master vital procedures, and excel in ophthalmology. We are dedicated to restoring vision for those with severe visual impairment and cataract-induced blindness worldwide.

​
is a proud recipient of the: