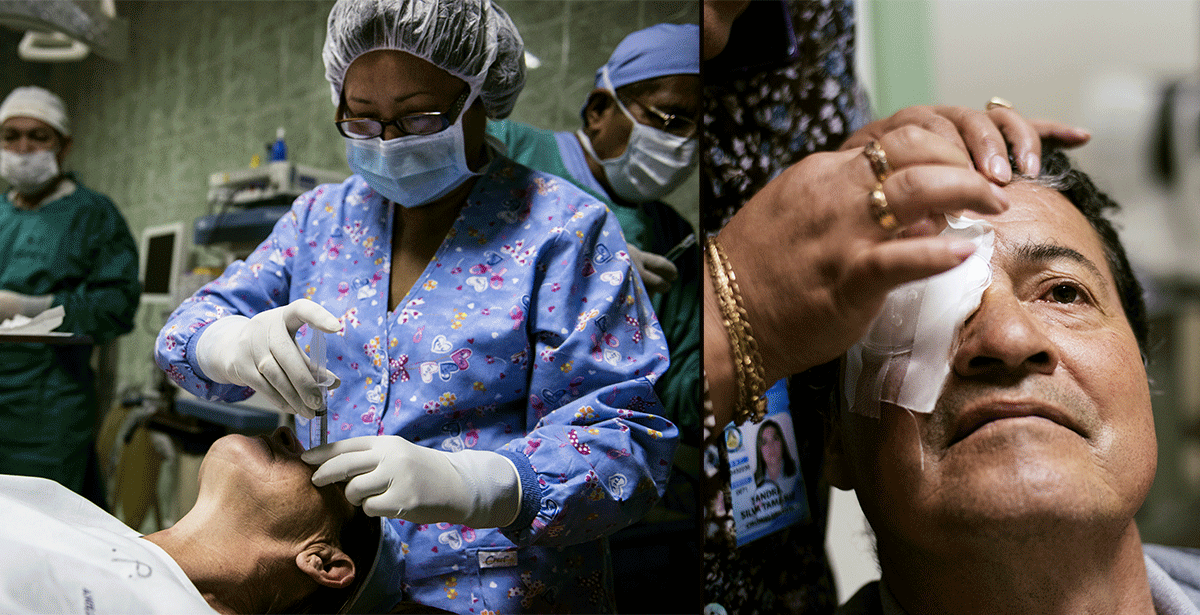 WAYS TO HELP
With your generous monthly support, we can provide training to a greater number of cataract specialists who can perform cataract surgeries. Together, we can bring sight back safely and inexpensively to more people every day.
HelpMeSee is committed to eliminating cataract blindness through the training of cataract specialists in Manual Small Incision Cataract Surgery, the leading cause of blindness across the world. Your gift will restore sight.
LEARN ABOUT PLANNED GIVING
Charitable gifts to HelpMeSee dramatically change the lives of people by restoring sight. When planned properly, these gifts may also provide tax savings, income and other financial benefits for the donor and the donor's family.
At HelpMeSee, we value our corporate partners' commitment to social responsibility. We aim to understand each company's philanthropic goals and provide customized opportunities to engage their resources in restoring sight to millions of these needlessly suffering from preventable blindness.

Corporations play a vital role in deepening the reach and impact of our work. When your corporation partners with HelpMeSee, you partner with communities on a local level connecting governments, healthcare systems, and non-profits to deliver sustainable solutions to better care and access to treatment in developing countries.

There are several ways for your company to become involved with HelpMeSee: donate gifts or services, matching employee contributions, sponsoring a HelpMeSee event or hosting an awareness day at your office.

• Corporate Gifts: Giving to HelpMeSee can help fulfill social responsibilities demonstrating an organization's commitment.
• Cause Marketing: Enhance your brand and maximize your corporate reputation while helping restore sight all over the world.
• Matching Gifts: Engage and inspire your employees to give by matching their donations.
For questions on Corporate Giving, please contact the manager of Annual Giving, Daniel Karl at

[email protected]

or reach out through our contact form. Do you need more information about donations to HelpMeSee? Would you like to send your donation question to HelpMeSee for a response? Visit Frequently Asked Questions About Donations to HelpMeSee.

Matching Gift

and

Volunteer Grant

information provided by
Sign up for HelpMeSee News
Get our HelpMeSee email newsletter to learn more about our mission of training more cataract surgeons to eliminate cataract blindness.
HelpMeSee, Inc.
1 Evertrust Plaza, Suite 308
Jersey City, NJ 07302

+1 844-435-7637 (toll-free in the U.S.)
+1 212-221-7606 (international)
For media inquiries, please email us directly at [email protected].
For training inquiries, please email us directly at [email protected].
Tax ID: 27-3207754
©2023 HelpMeSee - ALL RIGHTS RESERVED
Privacy & Data Security Policies | Donor Bill of Rights | Financial Disclosure
Training Services Standard Terms and Conditions | General Terms and Conditions of Simulator SBLS Use | Application Data Sharing Consent | HTML Sitemap
HelpMeSee is a 501(c)(3) nonprofit organization registered in the United States. 
The HelpMeSee mission is to eradicate preventable cataract blindness globally. We achieve this through an innovative, scalable simulation-based cataract surgical training program. Our program covers Manual Small Incision Cataract Surgery (MSICS), Phacoemulsification Simulation-based Training Course (PSTC), Suturing Simulation-based Training Course (SSTC), Complications Management Course (CMC), Phacoemulsification to MSICS Differences Course (PMDC), and MSICS to Phacoemulsification Differences Course (MPDC). These offerings empower eye care professionals to refine their skills, master vital procedures, and excel in ophthalmology. We are dedicated to restoring vision for those with severe visual impairment and cataract-induced blindness worldwide.

​
is a proud recipient of the: