 Conclusive: 50% Reduction in Live Cataract Surgery Errors with HelpMeSee Simulation-based Training
Cataract Surgery Simulation Training
HelpMeSee offers instructor-led Cataract Surgery Simulation-based Training with the HelpMeSee Eye Surgery Simulator.
OPHTHALMOLOGY SIMULATION

COURSES WE OFFER
The course provides detailed instruction on the 'What' and 'How' of performing Manual Small Incision Cataract Surgery using the HelpMeSee Eye Surgical Simulator to reach competence in the performance of this procedure.
The Phacoemulsification simulation-based training course navigates you through each intricate stage of the procedure – from the initial clear corneal incision to the emulsification of the nucleus, the implantation of a foldable intraocular lens, and the final closure of the surgery through wound hydration. The course emphasizes the development of hand-eye-foot coordination, vital for deftly maneuvering instruments during intraocular surgery and manipulating ultrasound energy via a foot pedal on the HelpMeSee Eye Surgery Simulator.
The simulation-based training suturing course is designed to build cognitive knowledge via an interactive eBook and insightful discussions led by a certified instructor. Once you've gained cognitive knowledge, you'll develop psychomotor skills on the HelpMeSee Eye Surgery Simulator, learning how to flawlessly pass a needle through eye tissue and tie that perfect knot to seal a tunnel.
This cataract surgery Complication Management Course leverages the power of the HelpMeSee Eye Surgery Simulator and feedback from a qualified instructor to enable the trainee to develop the surgical skills for managing cataract surgical complications. Learning is achieved using a standardized, and immersive instructor-led curriculum which provides a rich, interactive learning experience.
The Phacoemulsification to MSICS Differences Course (PMDC) focuses on advancing and refining skills in Manual Small Incision Cataract Surgery (MSICS) through extensive hands-on experience, offering over 20 hours of practice using the HelpMeSee Eye Surgery Simulator. This course is designed for ophthalmologists proficient in Phacoemulsification who are eager to master MSICS techniques.
The MSICS to Phacoemulsification Differences course (MPDC) is meticulously curated and guided by seasoned instructors, offering an extensive curriculum to enhance your surgical skills significantly. For MSICS surgeons looking to broaden their skill set, this course is meticulously designed to furnish eye surgeons with the proficiency needed to confidently perform the entire Phacoemulsification procedure. This training utilizes the state-of-the-art HelpMeSee Eye Surgery simulator, realistically replicating every intricate step of the procedure — from trenching and dividing to emulsifying the nucleus.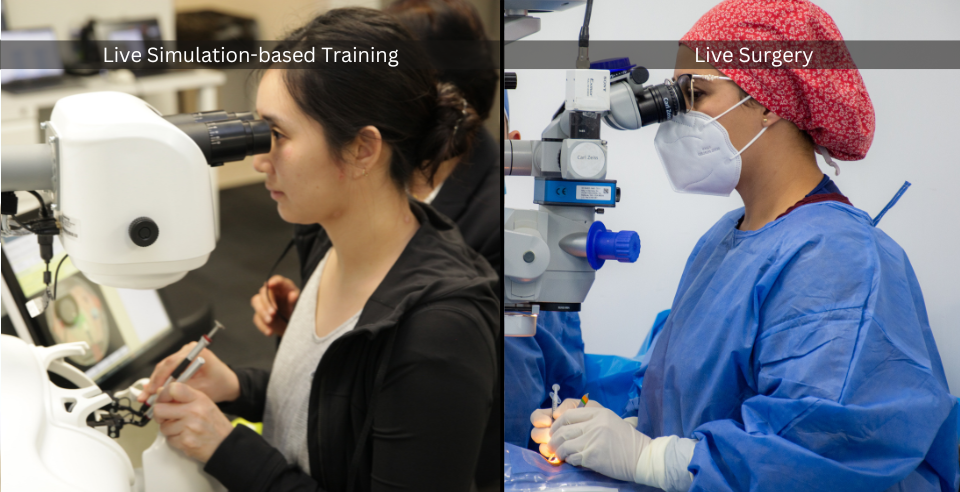 ENROLL IN THE HELPMESEE
SIMULATION-BASED TRAINING PROGRAM
The HelpMeSee Simulation-based Training Program offers an authentic experience of live surgery, allowing for the scalable training of large numbers of cataract specialists.
The program builds transferable competency and reduces cataract surgery training time. The ophthalmology simulation-based courses allows cataract specialists to practice surgery and learn to address complications through simulation, rather than the human eye with a live patient.  
Experience the feeling of lifelike cataract surgery!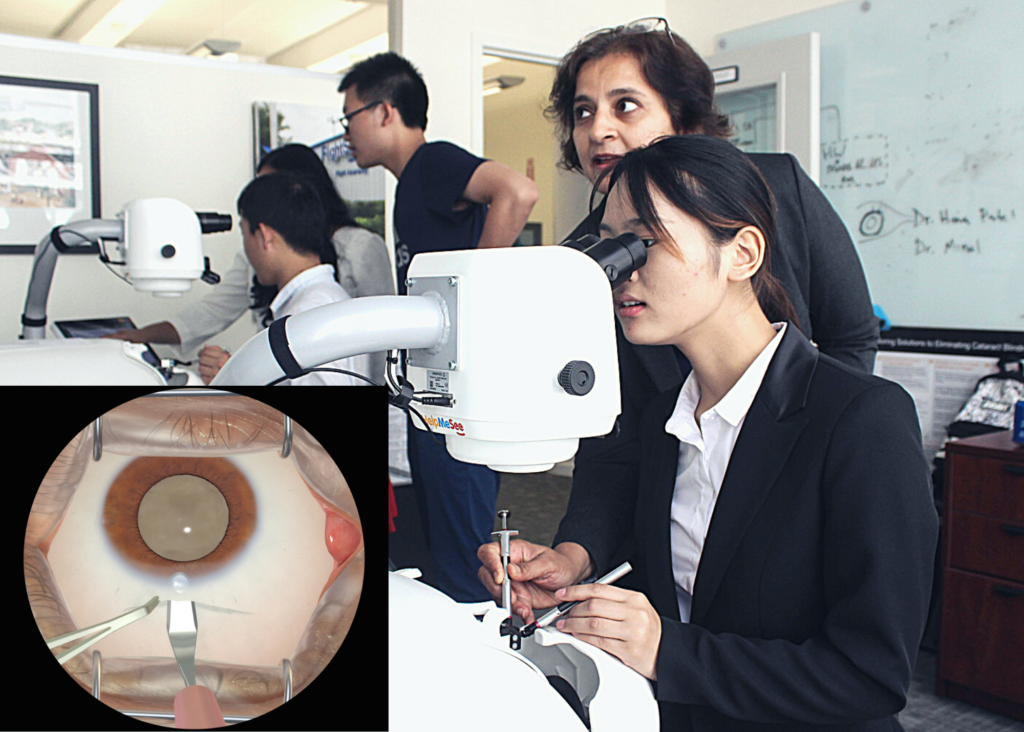 Simulation-based Training

is a proud recipient of the: