Cataract continues to be the world's leading cause of Blindness in 2021, with 100 million visually impaired people. Of those, 17 million are bilaterally blind, and 83 million have moderate to severe vision loss. With cataract surgery, those blind and severely visually impaired can have their sight restored. One of the main challenges in addressing this issue is the shortage of cataract surgeons and their geographical location needed to perform enough surgeries to clear the backlog of people with untreated cataract. HelpMeSee has developed a solution, the HelpMeSee training system, compromised of a virtual reality Eye Surgery Simulator, with a standardized curriculum delivered by expert instructors. This solution provides an unprecedented opportunity to training institutions worldwide to transform cataract surgical training courses with the integration of high-fidelity simulation. Simulation-based training offers the opportunity to significantly shorten the learning curve for cataract surgeons and achieve reduced complication rates, thereby enhancing patient safety during live surgeries.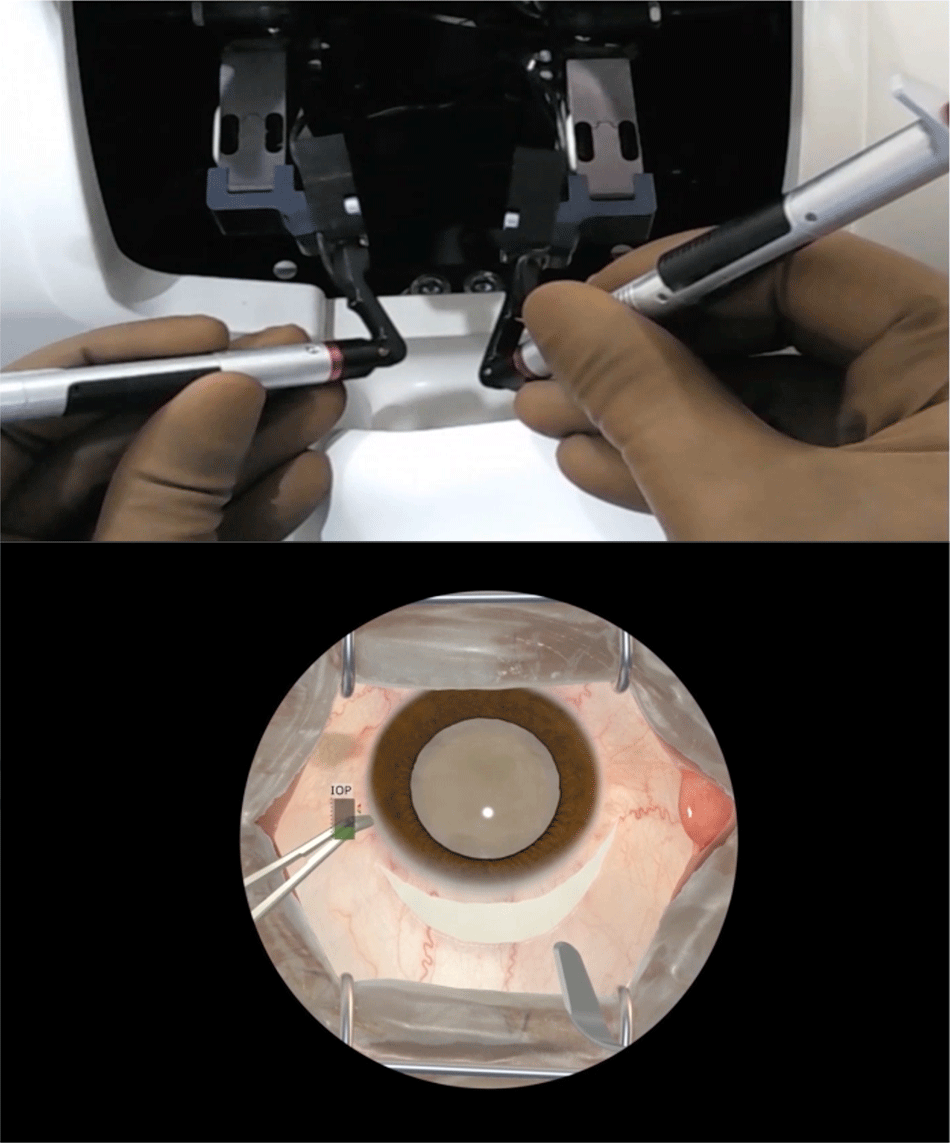 The study is based on review of performance of Tunnel Construction tasks that is a signature segment of the Manual Small Incision Cataract Surgery (MSICS).
A randomized control trial was conducted with multicentric comparative study involving 24 trainees from four training institutions and five centers across India. One of the groups was trained using simulation while the other trained conventionally before they collectively performed 380 surgeries. The surgeries were recorded, and the performance assessed by masked experienced surgeons (without those grading knowing who had gone through which type of training). Five Indian centers participated in the study: LVPEI Hyderabad, LVPEI Bhubaneshwar, LVPEI Vizag, Sankara Nethralaya – Chennai, and Mahatme Eye Hospital in Nagpur.
The results from the study were conclusive: surgeons who trained using the HelpMeSee simulation-based training system performed better in real life surgery compared to the conventionally trained group. A reduction in surgical errors of almost up to 50% was observed as they began operating on live patients.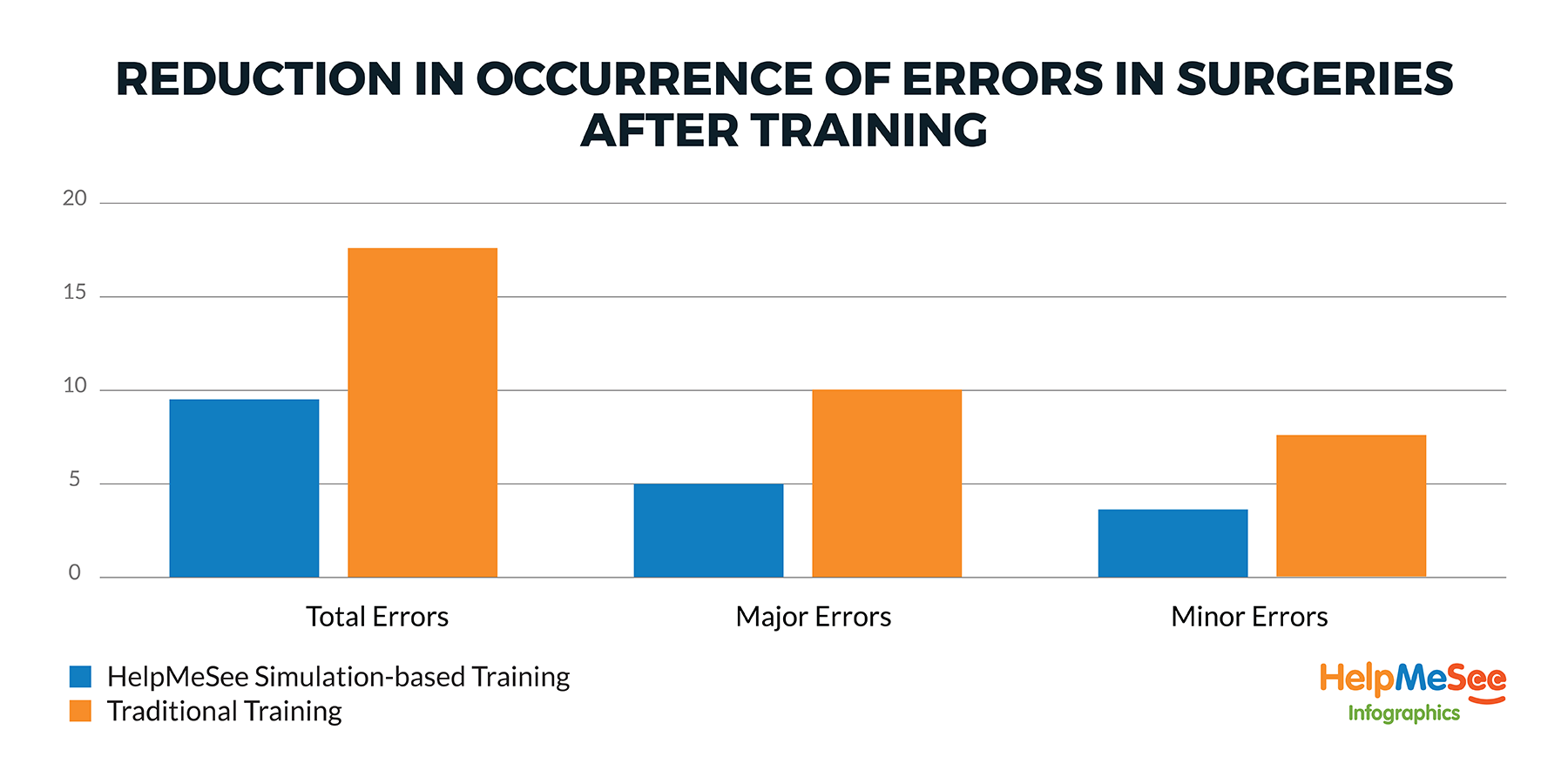 The results assert the value from simulation-based training. The novice surgeons trained using simulation-based course, made fewer errors in their first 20 live surgeries following the training, compared to the other group trained using conventional methods. A reasonably large reduction in surgical errors, particularly major errors demonstrate considerable value in terms of increased patient safety in the operating room.

This study is also the first randomized control trial evaluating the effectiveness of a virtual reality simulation-based training system for MSICS.
HelpMeSee wants to thank the authors and doctors for helping us prove our concept: Akshay Gopinathan Nair, Chetan Ahiwalay, Ashish E Bacchav, Tejas Sheth, Van Charles Lansingh, S Swaroop Vedula, Venudhar Bhatt, C Jagdeesh Reddy, Pravin Krishna Vadavalli, Smita Praveen, Nikhilesh Anil Wairagade, Jeff Pettey, as well as of Satyajit Patnaik, Aditi Desai, Sabiha Kalolwala, Kasturi Misra, Leanne Pereira and Ketan Rindani for data management and logistical support; Dr. Satyanarayanamurthy Ayyori, Dr. Ranjit Barot, Dr. Gayatri Bhonsale, Dr. Nayana A. Potdar, Dr. Minu Ramakrishnan, Dr. Piyush Ramavat, Dr. Nita Shanbhag and Dr. Vaishali Une for their efforts in video assessment.