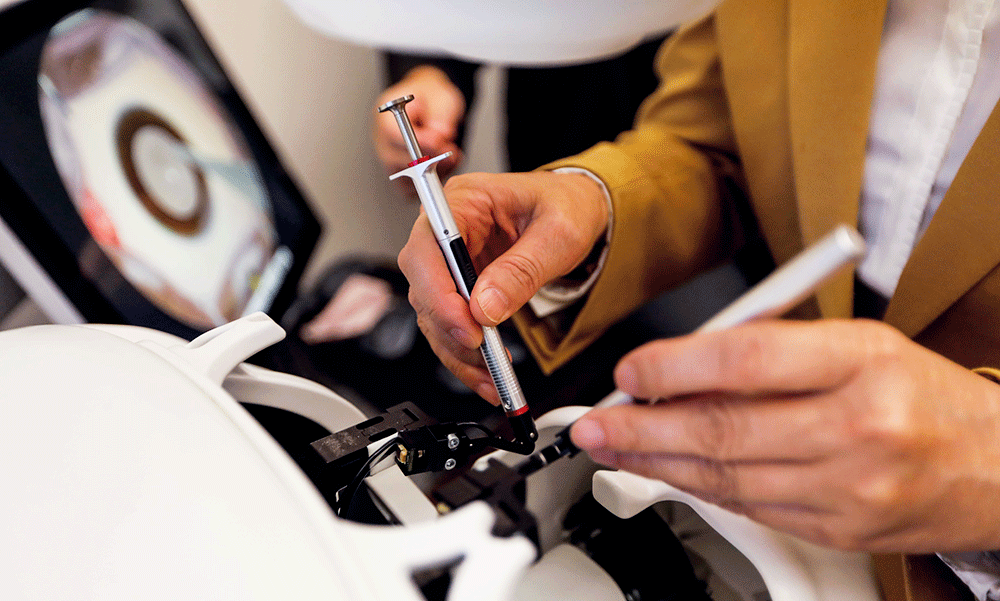 Complications Management Course
Why Learn Cataract Complications

Management?
HelpMeSee's primary objective with the Complications Management Course is to empower surgeons with the knowledge and practice to efficiently handle cataract surgery-related complications. The Manual Small Incision Cataract Surgery (MSICS) is a pivotal procedure that addresses the escalating demand for cataract treatments in underprivileged economies and areas with limited resources. 
This course is critical for surgeons who operate in these challenging conditions, not only to perform seamless surgeries but also to be adept at tackling unexpected surgical complications. In essence, we are committed to honing your expertise to ensure you are well-prepared and skilled to navigate any obstacles that may arise during cataract surgeries. 
Complications Management

Course
The Complications Management Course offers a comprehensive, instructor-led curriculum that integrates multiple learning tools. This includes our interactive MSICS eBook, valuable discussions led by certified instructors, and carefully structured sessions that let trainees hone their surgical skills through repeated practice on the HelpMeSee Eye Surgery simulator. Currently, the course delves into three essential skills required to effectively manage surgical complications. 
Our course is the perfect fit for: 
Join us in this immersive learning experience to better your surgical acumen and confidence in handling surgical complications. 
The content of the Complications Management Course equips trainees with the requisite knowledge and skills for mastery in a variety of surgical tasks. With the inclusion of additional modules, we ensure a comprehensive understanding and skillset that prepares trainees for various surgical scenarios. 
The HelpMeSee Eye Surgery simulator offers an unparalleled, risk-free setting where trainees can safely make and learn from mistakes, refining their surgical skills until they reach the benchmarked proficiency level. It serves as an effective platform for both subjective and objective performance assessments. 
Emulating the real-world surgical environment, the simulator delivers vividly realistic tactile feedback. The handpieces mimic the exact force feedback that surgeons would encounter during actual surgical tasks, providing a highly immersive learning experience. What you see through the microscope is a virtual eye with striking realism, created using advanced technology. The HelpMeSee Simulator recreates the intricate dynamics of surgical procedures, accurately imitating angles, forces, friction, fluid flow, and resistance. This is complemented with visually convincing and touch-sensitive feedback, offering an almost lifelike training experience. 
Elevate your surgical skills to new heights with our state-of-the-art HelpMeSee Eye Surgery simulator. Experience the closest thing to real-life surgical interactions and gain the confidence to perform successful surgeries. 
Immerse yourself in our innovative training methodology that combines the power of the HelpMeSee Eye Surgery simulator with the invaluable guidance of experienced instructors. Our goal is to equip trainees with the essential skills to effectively manage cataract surgical complications. 
Experience a standardized, immersive, and instructor-led curriculum that creates a dynamic and engaging learning environment. Each phase of the training journey is carefully crafted with tailored guided activities, ensuring specific objectives are met. 
Dive into a rich, interactive learning experience meticulously designed to enhance your skill development. Gain the knowledge and practice necessary to confidently navigate the complexities of cataract surgery, empowering you to handle any complications with finesse and precision. 
Discover a training approach that sets you on the path to surgical excellence. Unleash your potential and elevate your expertise with our cutting-edge methodology. 
HelpMeSee, Inc.
1 Evertrust Plaza, Suite 308
Jersey City, NJ 07302

+1 844-435-7637 (toll-free in the U.S.)
+1 212-221-7606 (international)
For media inquiries, please email us directly at [email protected].
For training inquiries, please email us directly at [email protected].
Tax ID: 27-3207754
©2023 HelpMeSee - ALL RIGHTS RESERVED
Privacy & Data Security Policies | Donor Bill of Rights | Financial Disclosure
Training Services Standard Terms and Conditions | General Terms and Conditions of Simulator SBLS Use | Application Data Sharing Consent | HTML Sitemap
HelpMeSee is a 501(c)(3) nonprofit organization registered in the United States. 
The HelpMeSee mission is to eradicate preventable cataract blindness globally. We achieve this through an innovative, scalable simulation-based cataract surgical training program. Our program covers Manual Small Incision Cataract Surgery (MSICS), Phacoemulsification Simulation-based Training Course (PSTC), Suturing Simulation-based Training Course (SSTC), Complications Management Course (CMC), Phacoemulsification to MSICS Differences Course (PMDC), and MSICS to Phacoemulsification Differences Course (MPDC). These offerings empower eye care professionals to refine their skills, master vital procedures, and excel in ophthalmology. We are dedicated to restoring vision for those with severe visual impairment and cataract-induced blindness worldwide.

​
is a proud recipient of the: