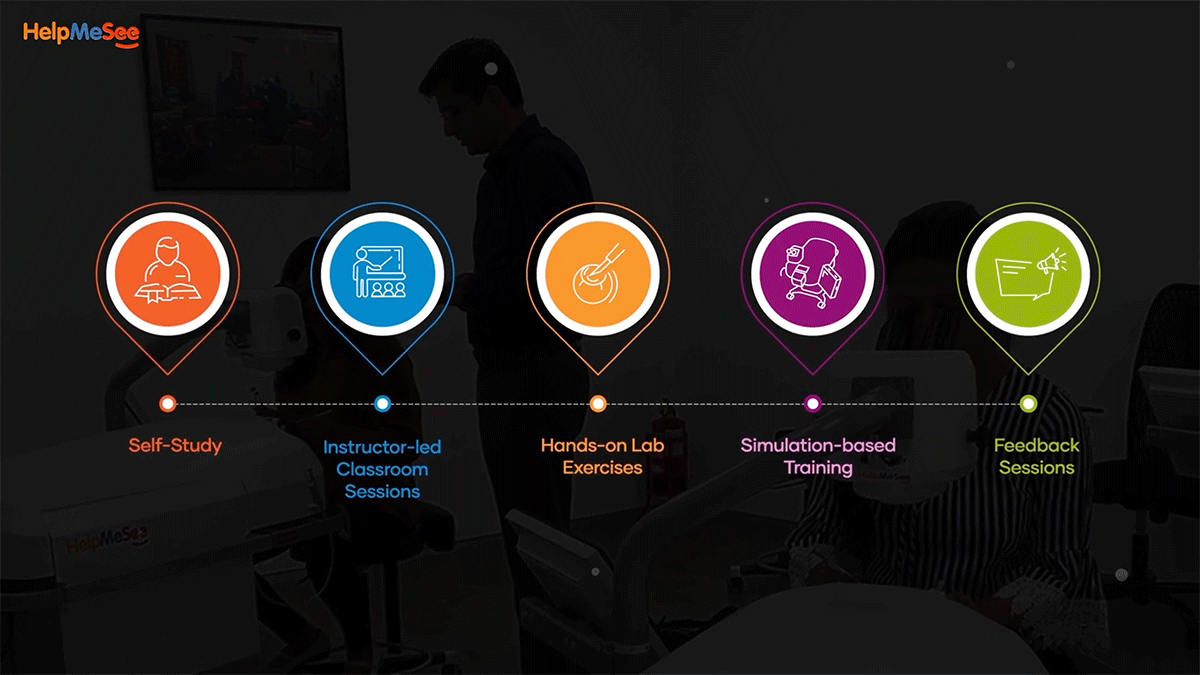 Manual Small Incision Cataract Surgery (MSICS) Simulation-based Training Course (MSTC)
Manual Small Incision Cataract Surgery Course
Why learn Manual Small Incision Cataract Surgery (MSICS)?
HelpMeSee's instructor-led Manual Small Incision Cataract Surgery Course is an integrated simulation-based training course (MSTC) that includes the interactive MSICS eBook, facilitated discussions with a certified instructor, and guided sessions that allow trainees to expand their knowledge of the procedure and improve surgical skills through repeated practice on the Eye Surgery Simulator.
The MSICS Course, MSTC, is a four-day virtual-reality simulation-based training course to develop and enhance MSICS surgical skills with more than 24 hours of practice on the HelpMeSee Eye Surgery Simulator. The course covers all the required surgical steps to complete the MSICS procedure.
The MSTC Course will benefit those interested in developing competency or improving their existing MSICS surgical skills.
The course is ideally suited for:
Ophthalmology residents or fellows in process of learning or improving their MSICS skills.
Practicing ophthalmologists who want to learn or improve their MSICS skills.
Surgeons wishing to transition from Extracapsular Cataract Extraction (ECCE) to MSICS.
The Manual Small Incision Cataract Surgery Course (MSTC) leverages the power of simulation-based training on the HelpMeSee Eye Surgery Simulator to develop the surgical skills required to perform MSICS. Learning is achieved through a standardized curriculum and qualified instructors that provide a rich and interactive learning experience. Trainees accomplish guided activities designed to meet specific objectives at each stage of MSICS training.
MSTC COURSE COVERAGE & OBJECTIVES
The MSICS Course (MSTC) covers the knowledge, comprehension and competence in the following surgical tasks:
Module A – The MSICS Tunnel
Creating a Scleral Groove
Tunnel Dissection
Making a Paracentesis
Injecting Viscoelastic
Enterting the AC with Keratome
Module B – Cataract Removal
Making a Capsulorrhexis
Performing Hydrodissection and Hydroprolapse
Dislocating the Nucleus
Delivering the Nucleus
Module C – Cortical Removal & IOL Implantation
Removing the Cortex
Inserting the IOL
Dialing the IOL
Module D – Restoration of Physiological Conditions
Hydrating the Paracentesis Site
MSTC Frequently asked questions
The language of instruction for MSTC is English. Instructors may also converse in the native language of the location.

You do not have to be affiliated with any specific college or medical institution to enroll in MSTC. Individuals may sign up as a sole practitioner.

Participants receive a Certificate of Completion from HelpMeSee.
Please contact [email protected] if you have questions or concerns about the HelpMeSee simulation-based Manual Small Incision Cataract Surgery Course (MSTC).

is a proud recipient of the: