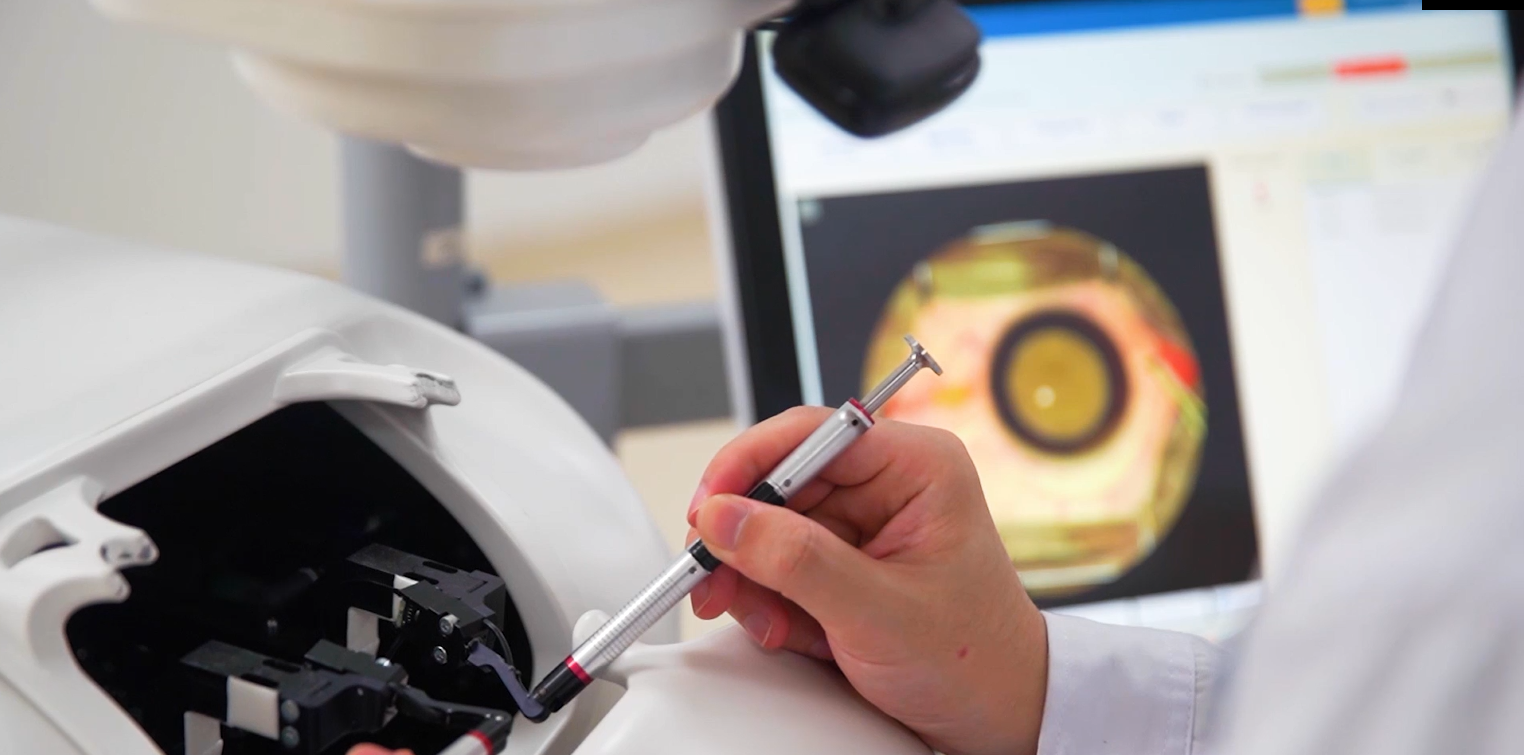 Phacoemulsification Simulation-based Training Course (PSTC)
PHACOEMULSIFICATION SIMULATION-BASED TRAINING COURSE
Why Learn

PHACOEMULSIFICATION?
Phacoemulsification is a transformative skill for any eye surgeon. For the surgeon, mastering Phacoemulsification opens up new professional opportunities, enhancing your surgical repertoire and making you more marketable. This advanced technique is highly sought after in the ophthalmology field, and proficiency in it can elevate your career to the next level. 
Our meticulously crafted Phacoemulsification Training Course is designed to equip eye surgeons with the skills needed to execute the entire Phacoemulsification procedure confidently, utilizing the state-of-the-art HelpMeSee Eye Surgery simulator. Every intricate step, including the complex processes of trenching, dividing, and emulsifying the nucleus, is realistically simulated to provide an immersive, lifelike learning experience. 
The Phacoemulsification Training Course emphasizes the development of hand-eye-foot coordination, vital for deftly maneuvering instruments during intraocular surgery and manipulating ultrasound energy via a foot pedal. With the HelpMeSee Eye Surgery simulator, you will master all the necessary skills to confidently perform Phacoemulsification in real-world surgical environments.  
Elevate your surgical expertise and make a significant impact on patient outcomes with our comprehensive Phacoemulsification Simulation-based Training Course (PSTC). 
PHACOEMULSIFICATION SIMULATION-BASED TRAINING COURSE (PSTC)
The Phacoemulsification Simulation-based Training Course (PSTC) is a five day course, curated and led by expert instructors, provides a robust, comprehensive curriculum to elevate your surgical prowess. The Phacoemulsification training journey begins with an interactive eBook and immersive discussions led by our certified instructors. 
After grasping cognitive knowledge, trainees' step into the immersive world of our cutting-edge HelpMeSee Eye Surgery simulator to develop their psychomotor skills. The Phacoemulsification Training Course navigates you through each intricate stage of the procedure – from the initial clear corneal incision to the emulsification of the nucleus, the implantation of a foldable intraocular lens, and the final closure of the surgery through wound hydration. 
Our PSTC equips you with key surgical skills: 
Crafting precise incisions: clear corneal incision and paracentesis openings.

 
Performing a flawless capsulorrhexis to open the lens capsule.

 

Executing Nucleotomy: trench, divide, and emulsify.

 

Efficiently clearing the cortex using irrigation and aspiration cannulas.

 

Implanting a foldable intraocular lens.

 

Stabilizing the eye and hydrating all openings to close the surgery successfully.

 
The Phacoemulsification Course is an excellent fit for: 
Level up your surgical skills with our immersive Phacoemulsification Training Course. Embark on a transformative journey to become a more proficient and assured eye surgeon.
Experience the Transformation
Step into the world of our cutting-edge HelpMeSee Eye Surgery simulator. It provides a unique, risk-free environment where trainees can safely explore, make mistakes, and hone their surgical skills until they reach the established proficiency level. The simulator offers a robust platform for comprehensive, both subjective and objective, performance assessments. 
The HelpMeSee Eye Surgery Simulator replicates the real-world surgical environment in unparalleled detail. It provides incredibly realistic tactile feedback, and the handpieces accurately mimic the force feedback experienced during actual surgical tasks, ensuring an immersive learning experience. You'll train on a virtual eye with an uncanny resemblance to the real deal, made possible by state-of-the-art technology. The HelpMeSee Eye Surgery Simulator faithfully recreates the nuances of surgical procedures, emulating angles, forces, friction, fluid flow, and resistance, all coupled with Valuable training tools and performance parameters to help assess trainee performances and track skill improvements, objectively, during the training.  
Take your surgical skills to the next level with our advanced HelpMeSee Eye Surgery simulator. Immerse yourself in a training experience so close to reality, it bolsters your confidence to perform successful surgeries. Embrace the future of surgical training today! 
Our Unique TRAINING APPROACH
Embark on an extraordinary learning journey with our innovative training methodology, combining the cutting-edge HelpMeSee Eye Surgery simulator and the guidance of seasoned instructors. Our mission is to equip trainees with the essential skills to master phacoemulsification. 
Immerse yourself in a standardized, immersive, and instructor-led curriculum Phacoemulsification Training Course, meticulously designed to create a dynamic and captivating learning environment. Each phase of the Phacoemulsification training course journey is thoughtfully crafted with tailored guided activities, ensuring the achievement of specific objectives. 
Immerse yourself in a rich, interactive learning experience that nurtures skill development. Acquire the knowledge and practice required to navigate phacoemulsification surgery with confidence and precision, empowering you to flawlessly handle every surgical step. 
Discover a training approach that paves the way to surgical excellence. Unleash your full potential and elevate your expertise through our cutting-edge methodology. Your journey to surgical mastery starts here. 

is a proud recipient of the: