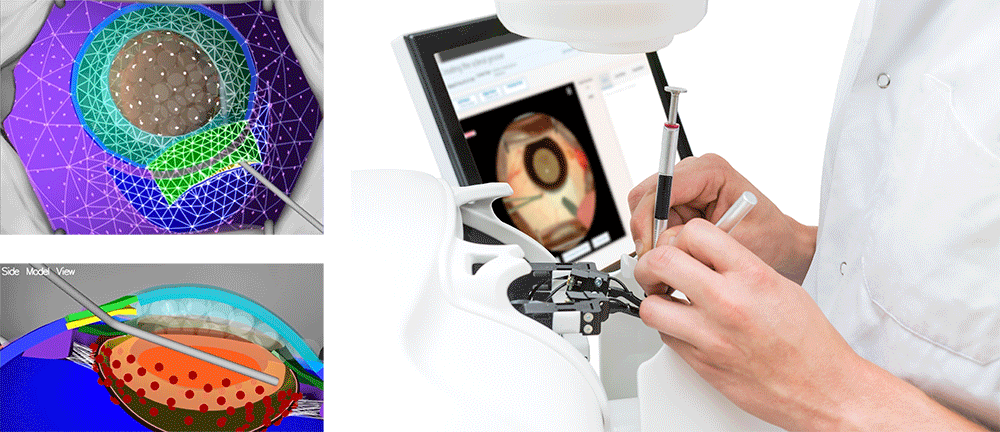 Advantages of a Simulation-Based Learning System
With the Eye Surgery Simulator at the core, HelpMeSee's instructor-led training courses are integrated training courses that include interactive eBooks, eLearning, facilitated discussions with a certified instructor, and guided sessions that allow the learner to expand their knowledge of the procedure and improve their surgical skills through repeated practice.
Training Features
The HelpMeSee curriculum utilizes various instructional activities that are planned to enable meeting objectives at every stage of the learning journey. It includes a pre-study eBook and eLearning, classroom sessions, simulator sessions, team training, debrief sessions, and more. This ensures a comprehensive learning experience.
Pre-study eBook
The eBook provides a comprehensive overview of the fundamentals of surgical techniques and procedures. It includes graphics, animations and live surgery videos, and other features for a richer learning experience. It is designed to help learners gain a deeper understanding of topics ranging from general principles of surgery to more specific details on the anatomy and physiology of the eye.
eLearning
Used in conjunction with our overall simulation course, our courses include eLearning with an option for classroom if required to support the attainment of the necessary knowledge and comprehension in advance of simulation training.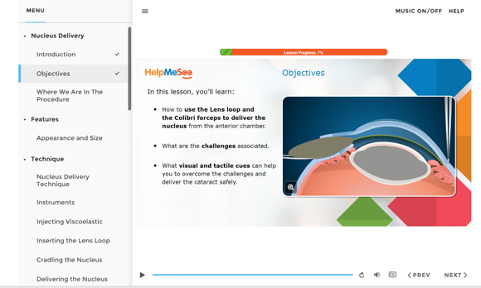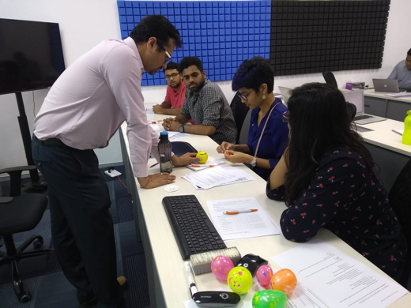 Standardized curriculum
HelpMeSee maintains a standardized curriculum across all its global training centers.
Standardized techniques for learners carefully chosen by experienced mentors and supported through the simulation
Each maneuver within the training assignments has been reviewed and chosen in consultation with highly experienced mentors with decades of practice in the field. Thus, our simulation closely mirrors the feeling/haptic response to what is experienced in live surgery and allows the attainment of surgical skills that are transferable to live surgery. They have ensured that all techniques are safe and effective.
Certified instructors
Certified ophthalmologists are responsible for overseeing all HelpMeSee training. All instructors are trained and qualified in the delivery of each course.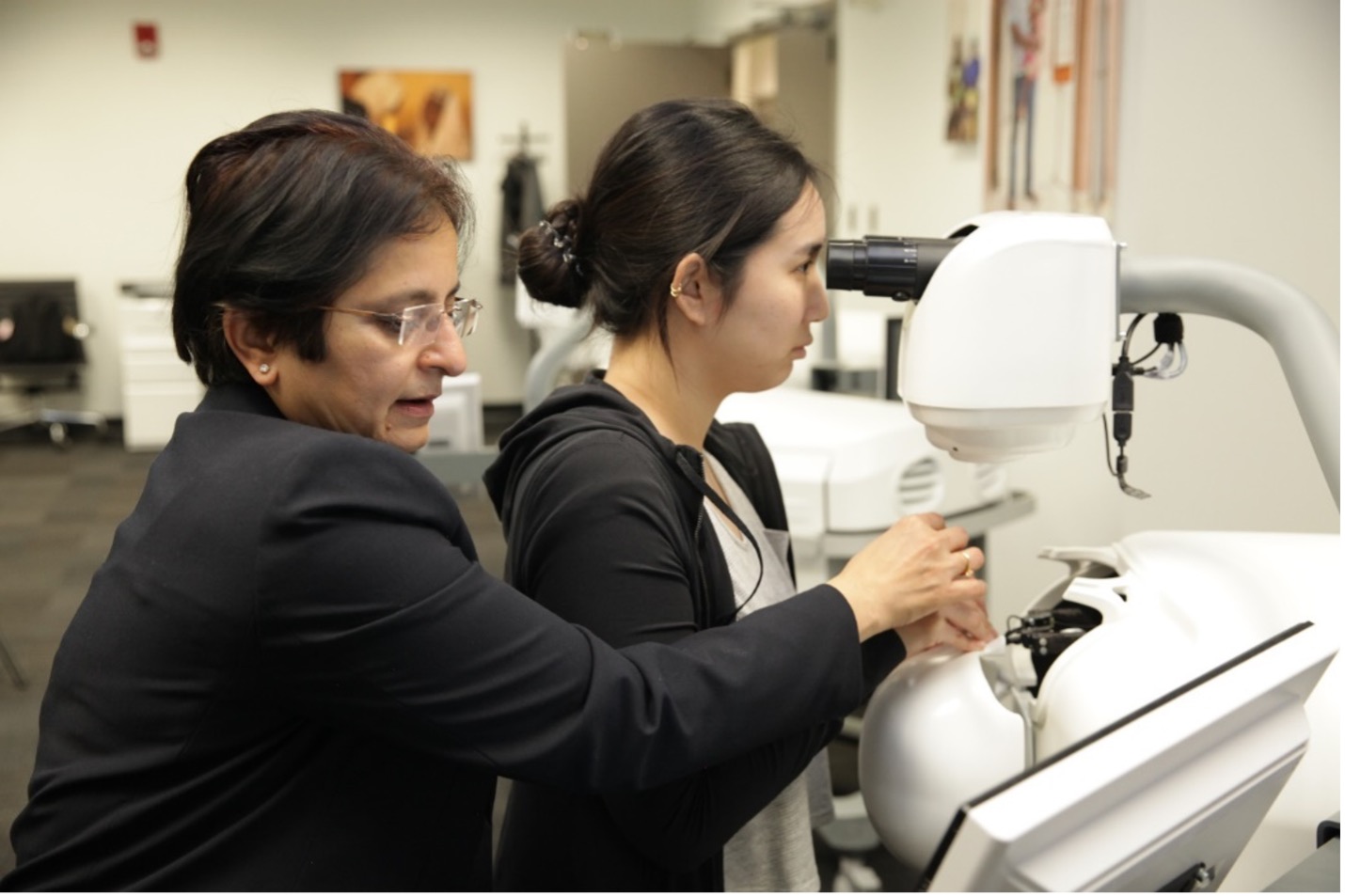 Training in several languages
In addition to English, key training materials are available in Mandarin, Spanish, and French to support training in different regions. Wherever possible, training is delivered by certified instructors in the local language.
Practice until perfect
The instructor-led simulation-based training is designed to have the learner, through repeated practice, become competent, then proficient, and ultimately gain the confidence that supports the transition of those skills to live surgery. Inherent in this practice is the unique opportunity to make errors and develop the appropriate techniques to make early corrections and thus avoid complications. The data from the simulation system, coupled with the expert instructor guidance, supports the learner's path to proficiency and confidence. It is not unusual for a learner to make 50 or more attempts at a complex task during a scheduled training event.
Training Centers
Establishing ecosystems for sustainable solutions for health equity
In our own facilities, and in partnership with prestigious ophthalmic institutions, HelpMeSee simulation-based training is available in 11 cities around the world.
USA: Jersey City, NJ
Address: HelpMeSee, 1 Evertrust Plaza, Suite 308, Jersey City, NJ 07302
India: Mumbai, Madurai, and Hyderabad
Address: HMS Vision Pvt Ltd, Unit 703, A Wing, Supreme Business Park, Hiranandani Gardens, Powai, Mumbai 400076
Address: Aravind Eye Hospital, Anna Nagar Main Road, Kuruvikaran Salai Anna Nagar, Ranan Nagar Sathamangalam, Madurai, Tamil Nadu 625020
Address: L V Prasad Eye Institute, Kallam Anji Reddy Campus, L V Prasad Marg, Hyderabad 500034
Mexico: Queretaro
Address: Instituto Mexicano de Oftalmologia (IMO), Av. Armando Birlain Shaffler S/N, Centro Sur, 76090 Santiago de Querétaro, Qro., Mexico
Madagascar: Antananarivo
Address: Polyclinique Ilafy, Andafiavaratra Ambohitrarahaba, 101 Antananarivo, Madagascar, BP:8632
France: Strasbourg
Address: Gepromed, 4 rue Kirschleger, 67085 Strasbourg France
China: Beijing, Wenzhou, Shenyang, and Guangzhou
HelpMeSee Inc. China Office, Suite 1310, Building 01, DAMOFANG Cultural and Creative Offices, No.17 Sanyuan Street, Dongcheng District, Beijing, China 100077
Eye Hospital of Wenzhou Medical University, 270 Xueyuan W Rd, Lucheng District, Wenzhou, Wenzhou, Zhejiang, China 325027
He Eye Specialist Hospital, QCX6+455, Zhongshan Plaza, Heping District, Shenyang, Shenyang, Liaoning, China 110001
Zhongshan Ophthalmic Center, Sun Yat-sen University, No. 54 South Xianlie Road, Guangzhou, Guangdong Province 510060
In summary, the trainees enrolled in HelpMeSee courses are offered an unparalleled environment that is safe, learner-centric, realistic and focused on skill building with optimal support to make the learning experience highly efficient and effective. This approach allows students to acquire surgical competence that may otherwise take months and possibly several years to develop and are often beyond the reach of many aspiring surgeons.
Experience the feeling of lifelike cataract surgery!
Our Training Philosophy »

is a proud recipient of the: