Last month, HelpMeSee shipped three simulators to China – one to Beijing and two to Wenzhou Medical University. HelpMeSee Biomedical Simulator Technologist Anthony DeSantis traveled from New York to Beijing and then Wenzhou to set up the simulators, marking an important milestone in our history.
On a not-so-typical Saturday morning on July 6, I sat in the stratosphere halfway across the world on a mission to set up three HelpMeSee Eye Surgery Simulators in China – one in Beijing and two in Wenzhou. As a Biomedical Simulator Technologist, I am responsible for simulator operations as well as the global coordination and logistics for our fleet of simulators. I make sure that each simulator runs in optimal condition to provide a quality experience to our trainees.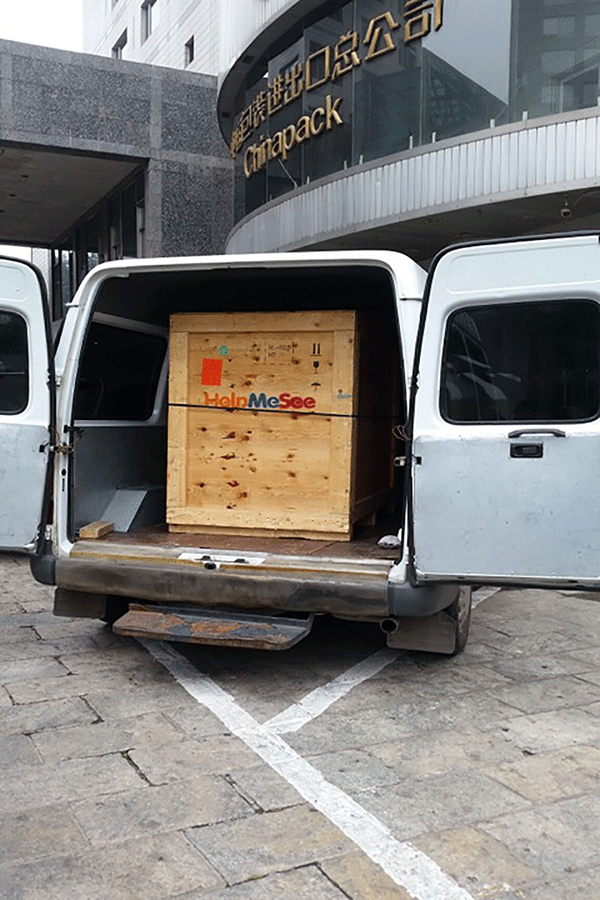 When I arrived in Beijing to unload the crate that contained our first simulator, I stared at the back of the truck. The crate fit snugly inside, like a single puzzle piece.
I turned to face six men standing by the truck, rolling up their sleeves. The seven of us quickly joined forces. For each loose screw, there was a hand to break its fall. We removed the HelpMeSee Eye Surgery Simulator from its blue plastic covering, then wheeled the simulator upstairs.
Once we were in the HelpMeSee Beijing office, I greeted our China team, Marie Liu, China Chief Representative and Yang Ji, Project Manager. After the initial installation and onsite testing, Marie invited a group of junior and expert-level surgeons to learn about our simulation-based surgery training program. HelpMeSee Medical Officer of China, Dr. Yang Xiao, and I spearheaded the bilingual demonstration.
Next was the delivery of two simulators to the Eye Hospital of Wenzhou Medical University (EHWMU).
From Beijing to Wenzhou, the flight took about two hours. As we took off, the blare of horns from motorcycles and cars receded, and the thick smog coating the skyline dissipated to clear skies, palm trees, and mountaintops.
Wenzhou Medical University's dome buildings are sprawled out by a waterfront on three campuses. Ranked as a top-tier school supporting clinical medical science programs and considered one of the best global universities in this decade, as cited in U.S. News and World Report's Fourth Annual Survey, Wenzhou Medical University continues to boast an impressive roster of accomplishments.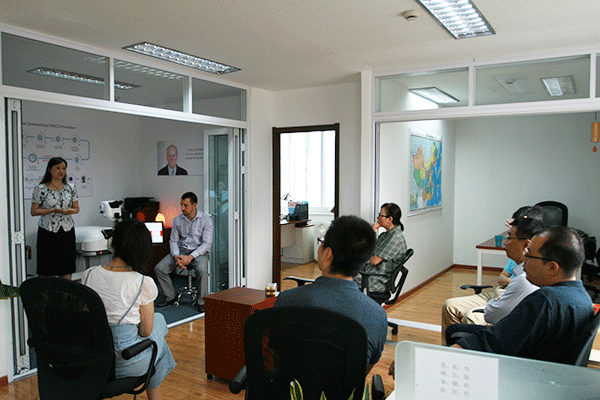 Marie Liu (left, next to the simulator) introduces the mission of HelpMeSee to junior and expert-level ophthalmologists in the Beijing office.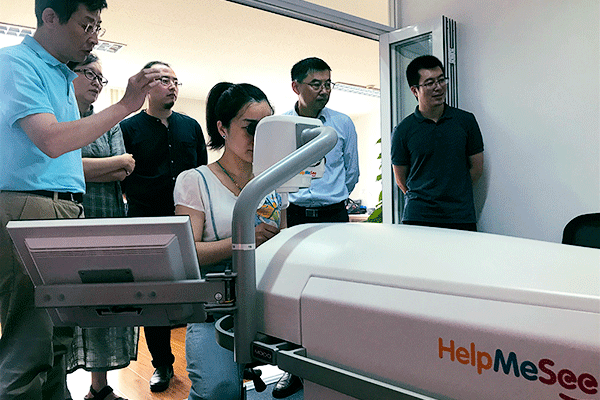 Dr. Min Gao (center, on Simulator), who treated cataract patients during the HelpMeSee 2015 Shandong campaign, practices cataract surgery with the guidance of her mentor, Dr. Yang Xiao (leftmost).
Wenzhou Medical University is incorporating the HelpMeSee Eye Surgery Simulator into its core ophthalmology curriculum. While cataracts are treated daily in larger cities, those with cataracts who live in rural areas often have limited access to surgeons. This additional training is a way of delivering treatment in those areas.
Our trip to Wenzhou Medical University came with its own set of challenges. The second and third simulators were waiting 50 to 60 feet away in another building and needed to be wheeled across the hospital street. We soon learned that the designated building did not have elevators to lift each of the heavy simulators to the second floor. Again, teamwork pulled us through.
Currently, the two Wenzhou simulators are stationed in a mock operating room in an older building that houses abandoned hospital beds and privacy curtains, exhibiting an overall historical feel to an otherwise vacant space which now houses the state-of-the-art virtual reality medical simulators.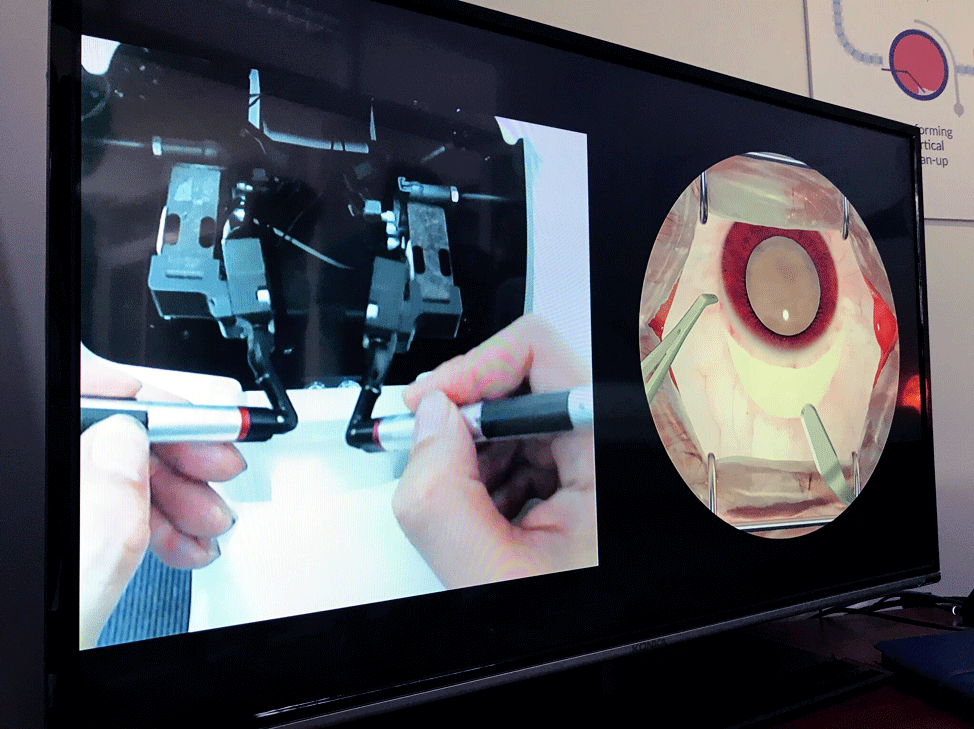 Dr. Min Gao's hands working on the Simulator in real-time (left) and Dr. Gao's Tunnel Construction progress on the simulated eye (right).
On my second day at WMU, Director Qu Jia of Wenzhou Medical University's Affiliated Eye Hospital and Deputy Director Dr. Xu Xu of the Eye Hospital's Cataract Center with a few medical trainees visited the simulator room to evaluate the simulators. All were pleased with the technology. In July at the Vision China Conference in Beijing Director Qu Jia announced the simulator launch in Wenzhou Eye Hospital).
For the remainder of July and August, WMU's Dr. Xu Xu and Attending Ophthalmologist Dr. Zelin Zhao will implement Phase 1 of the Pre-Pilot Project. The Pre-Pilot project is a series of simulator demonstrations given to the Eye Hospital's doctors, medical students, and hospital leadership team to introduce the concept of the Eye Surgery Simulator and to present HelpMeSee's contribution to simulation-based surgery training technology.
Instructor Dr. Zelin Zhao (left) and Instructor Dr. Xu Xu (second from right) lead the Tunnel Construction course with medical trainees.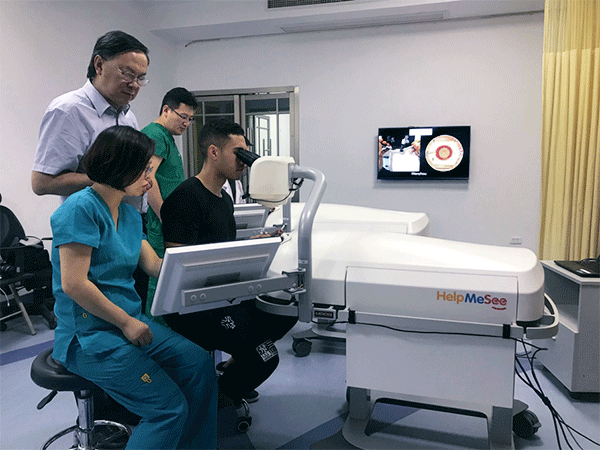 Instructor Dr. Xu Xu (leftmost) and Director Qu Jia (second to left, back row).
Thank you to those who continue to support HelpMeSee and our mission to eliminate the backlog of cataract blindness by implementing cutting-edge, virtual-reality surgery simulation-based training. As we expand, we look forward to sharing more stories. To receive articles by email, sign up for our HelpMeSee Website Newsletter.