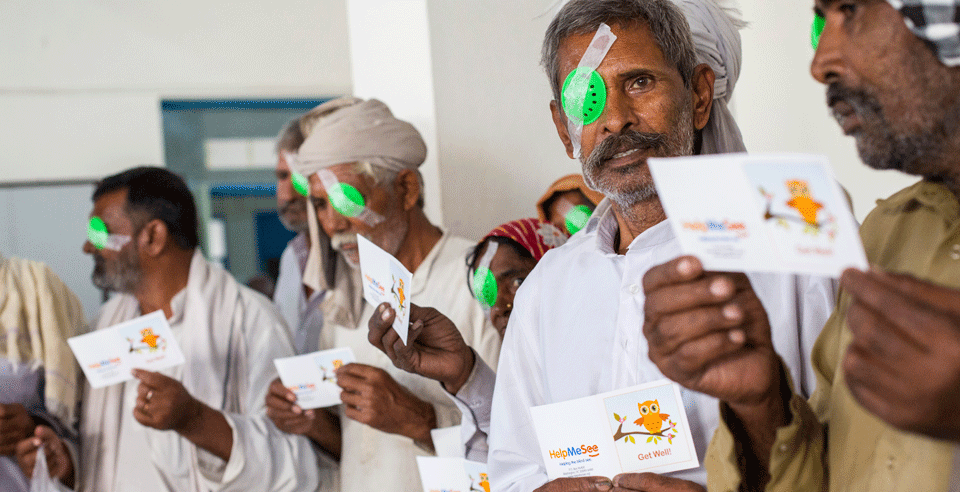 GIFTS OF STOCK
Thank you for your interest in making a donation of stock to benefit HelpMeSee. We encourage charitable donations of stock and mutual funds. By donating appreciated securities, you may be able to avoid capital gains taxes and make a larger gift at a lower original cost. 
As a registered 501(c)(3) charitable organization, HelpMeSee can sell stocks or mutual funds without tax consequences.
To donate stocks or mutual funds, simply download the sample letter to send to your broker. Please provide your broker with the following information:

Name of Account: HelpMeSeeBank Name: Merrill LynchDTC Number: 8862Account Number: 852-03661Tax ID Number: 27-3207754
To ensure that all gifts are received and acknowledged, please tell us about your gift by clicking on the button below with the subject line: Gift of Stock.
Sign up for HelpMeSee News
Get our HelpMeSee email newsletter to learn more about our mission of training more cataract surgeons to eliminate cataract blindness.
GIFTS OF WILL OR LIVING TRUST
FINANCIALS & ANNUAL REPORTS
HELPMESEE PLANNED GIVING PROGRAMS
HelpMeSee, Inc.
1 Evertrust Plaza, Suite 308
Jersey City, NJ 07302

+1 844-435-7637 (toll-free in the U.S.)
+1 212-221-7606 (international)
For media inquiries, please email us directly at [email protected].
For training inquiries, please email us directly at [email protected].
Tax ID: 27-3207754
©2023 HelpMeSee - ALL RIGHTS RESERVED
Privacy & Data Security Policies | Donor Bill of Rights | Financial Disclosure
Training Services Standard Terms and Conditions | General Terms and Conditions of Simulator SBLS Use | Application Data Sharing Consent | HTML Sitemap
HelpMeSee is a 501(c)(3) nonprofit organization registered in the United States. 
The HelpMeSee mission is to eradicate preventable cataract blindness globally. We achieve this through an innovative, scalable simulation-based cataract surgical training program. Our program covers Manual Small Incision Cataract Surgery (MSICS), Phacoemulsification Simulation-based Training Course (PSTC), Suturing Simulation-based Training Course (SSTC), Complications Management Course (CMC), Phacoemulsification to MSICS Differences Course (PMDC), and MSICS to Phacoemulsification Differences Course (MPDC). These offerings empower eye care professionals to refine their skills, master vital procedures, and excel in ophthalmology. We are dedicated to restoring vision for those with severe visual impairment and cataract-induced blindness worldwide.

​
is a proud recipient of the: